Hardwood Flooring in Portsmouth, VA
Increase the value of your home with standout hardwood floors! Whatever your hardwood flooring needs, we bring our expertise and knowledge to build your dream floors! With a beautiful selection of hardwood, Cherry Carpet & Flooring provides top-quality hardwood flooring products with both solid and engineered options. Are you interested in browsing hardwood flooring options? Visit our showroom in Portsmouth, VA and talk to one of our experienced team members! We will walk you through everything hardwood flooring. From choosing a species to installation, Cherry Carpet & Flooring has you covered!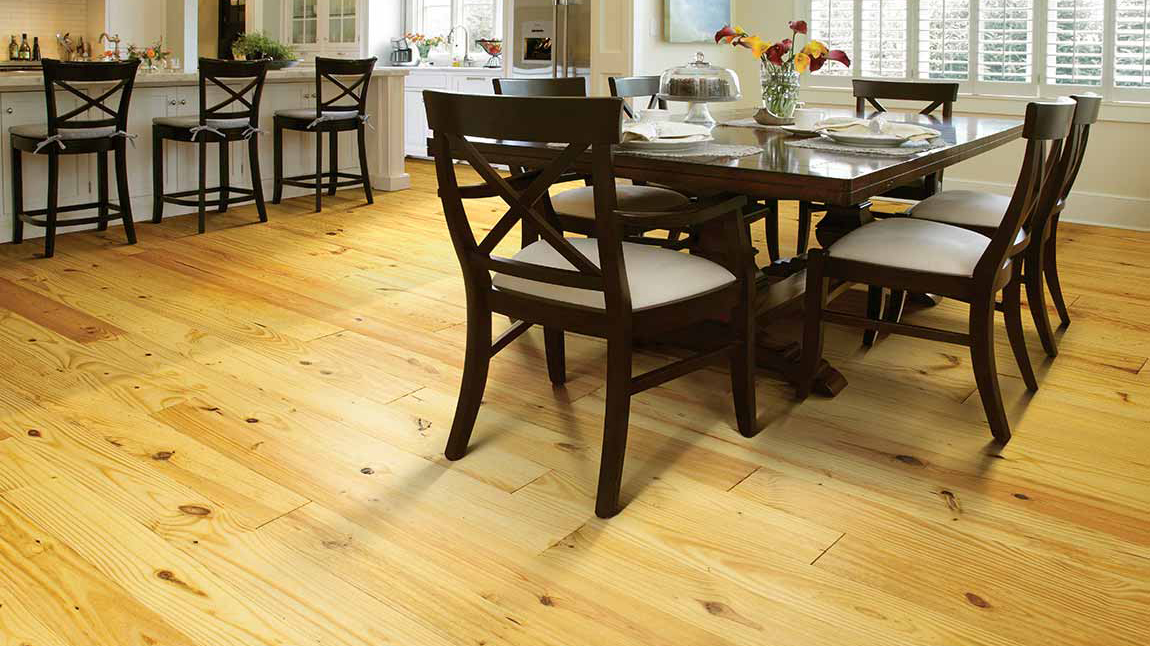 Types of Hardwood Flooring
Customers can choose from two types of hardwood - solid wood flooring and engineered wood flooring. Each type comes in various wood species, cuts, and finishes to bring a natural elegance to your home.
Solid Hardwood:

Solid hardwood is made entirely of wood. While the lifespan of solid hardwood extends up to 100 years, it is not ideal for all flooring projects. Solid hardwood is more susceptible to warping if you deal with excessive heat and moisture. However, solid hardwood is an excellent choice with professional installation and proper maintenance of moisture levels.
Engineered Hardwood:

Engineered hardwood is a popular choice for our Portsmouth, VA customers. Engineered hardwood is made of a compressed plywood core and a thin hardwood top layer. This gives the look and feel of solid hardwood with a core that can handle heat, humidity, and concrete subfloors without cracking or warping.
The Benefits of Hardwood Flooring
At Cherry Carpet & Flooring, we provide top-quality brands, including Palmetto Road, Triangulo, Somerset, Impressions, Bruce, Johnson Hardwood, IndusParquet, Shaw, Provenza, LW, Cali Bamboo, Eastern Hardwood, Hallmark, and Nuvelle. Depending on your aesthetic desires and structural needs, we will walk you through your options to find your perfect hardwood flooring fit! Discover the benefits of Cherry Carpet & Flooring hardwood flooring:
Creates ambiance

: Wood floors create a naturally warm and cozy ambiance. Hardwood flooring allows you to be creative with your interior design and works well with various style preferences.

Increases the value of your home

: Hardwood flooring is a worthwhile investment as it increases the overall value of your home. You will thank yourself if you ever choose to sell your home!

Refinishing opportunities

: Do you love to redecorate? Solid hardwood flooring can be sanded down and refinished with new stains. Customers love switching up the look over the lifespan of the floor.

Design:

Choose your species, cut, finish, and installation pattern for a stylish signature look!

Easy to clean:

The finishing seal on hardwood floors makes it a breeze to clean. A regular sweep and dry mop are all you need to keep your hardwood floors looking brand new!
Hardwood Floors and High-Humidity Areas
We deal with a lot of humidity in the Portsmouth area. Wood is porous and contracts with changes in moisture levels. We deal with high levels of humidity. Many customers are concerned about warping or buckling due to excess moisture. However, your hardwood floors can last a lifetime with quality products and proper installation! Cherry Carpet & Flooring takes the time to install wood floors properly, so they are durable and reliable over time. With proper acclimation and protective sealants, your hardwood floors will be ready to withstand Virginia's humid weather.
Maintenance and Care Tips for Hardwood Floors
Regular cleaning and maintenance ensure you receive the most value from your investment. You only need a quick sweep and dry mop for lighter messes. For more serious messes, do not use water to clean your hardwood floors as it diminishes the finish. For best results, contact one of our professionals for recommended hardwood floor cleaning supplies. Protect your floor from scratches by placing felt pads on moveable furniture and adding area rugs in high-traffic areas. We are happy to answer any questions and provide guidance on hardwood floor care!

How is Hardwood Flooring Installed?
Cherry Carpet & Flooring experts have the essential skills and know-how to install hardwood flooring safely and efficiently. Our qualified team ensures each customer receives long-lasting and gorgeous hardwood flooring. We are confident in our products and installation services, which is why we offer our Ultimate Confidence Guarantee. Should you find yourself unhappy with your flooring, you can give us a call within 30 days of your installation to receive a full replacement at no additional cost. Discover how Cherry Carpet & Flooring can bring value to your home with new hardwood floors!
Ready for your hardwood floor dreams to become reality? Contact Cherry Carpet & Flooring today! We proudly serve customers in Chesapeake, Norfolk, Virginia Beach, Hampton, Suffolk, Newport News, Smithfield, Portsmouth, Isle of Wight, Williamsburg, and Eastern Shore, Virginia, and the neighboring communities!